After a quiet start, the Yankees' offseason finally has gotten going, and they've moved to fill two of their biggest needs by
, their best hitter the past two years, and
signing pitcher Corey Kluber
, who has top-end talent if he can stay healthy enough to use it. They probably could use another veteran depth starter, and every team in the sport could use another reliever or three, so there's likely more to come. But the Yankees at least have gone out and added two pretty large names.
Let's talk about something smaller, though not unimportant: What about a lefty hitter?
At the moment, they could really use one.
Right now, the Yankees have 17 position players on their 40-man roster. Eleven of them hit right-handed. Two of them, outfielders Aaron Hicks and Greg Allen, are switch-hitters. The remaining four do swing lefty, but each of them — Mike Ford, Mike Tauchman, Tyler Wade and Estevan Florial — are backups at best. (That group in 2020 combined for a slash line of .188/.291/.296, a mere .588 OPS.)
Of course, they didn't have a strong lefty hitter last year, either, and it didn't stop them from scoring the fourth-most runs in baseball. In 2020, the Yankees took only 618 plate appearances from the left side of the plate, the fewest in baseball. But now they really don't have one, because the man who took the most of those lefty plate appearances, Brett Gardner, is an unsigned free agent, which leaves them with Hicks and that collection of backups.
They're so right-handed, in fact, that the projected lineup looks like this: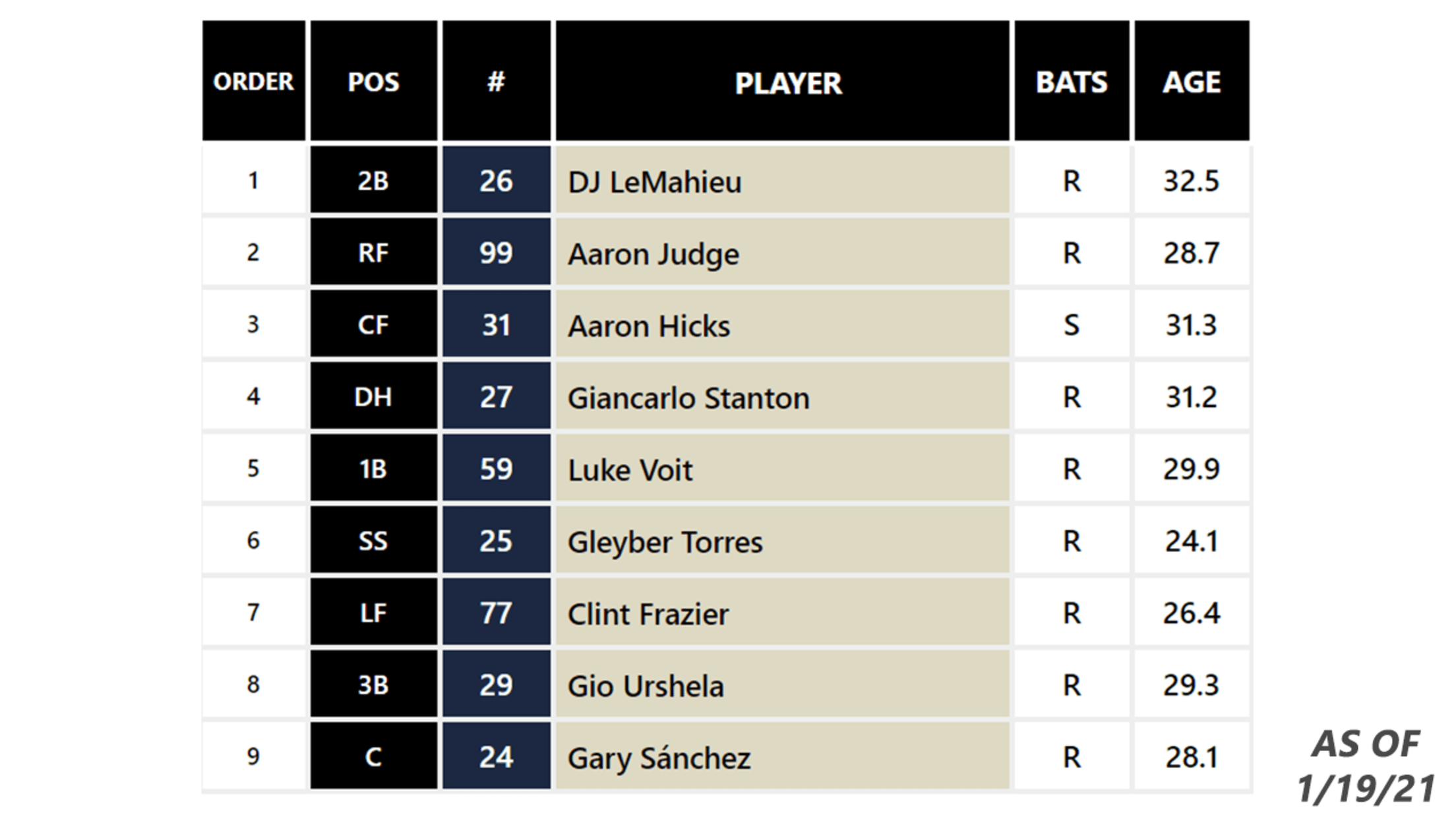 Hicks aside, don't spend too much time looking for the "L" for "left-handed," because you won't find one. (Note, also, this doesn't even include righty bench bats Miguel Andújar or Kyle Higashioka.)
They're so right-handed that if you look at all of the projected Yankees plate appearances for 2020, including a few non-roster invitees not on the 40-man roster, and you project the switch-hitters to take 70% of their plate appearances from the left side (a number chosen since that's what Hicks' career has looked like), you get a split that looks like this:
Right-handed hitters: 85% of plate appearances
Left-handed hitters: 15%
It won't play out exactly like that, obviously, but if you're wondering if any team has ever done that before, the answer is "yes, but you don't want to be on the list."
Lowest percentage of left-handed plate appearances
12.2% — 1970 Padres
13.5% — 1969 Padres
14.7% — 1944 Reds
16.2% — 1993 Rockies
16.6% — 1945 Reds
That's three first- or second-year expansion teams, and the wartime Reds. Four of these five clubs lost 90 games or more. Even if it's not possible for a team as talented as the 2021 Yankees to do this, still, don't do this.
Somewhat hilariously, it was only six years ago when the 2015 Yankees — the team of lefties Brian McCann, Didi Gregorius, Stephen Drew, Gardner and Jacoby Ellsbury, and switch-hitters Carlos Beltrán, Mark Teixeira and Chase Headley — had the second-most lefty plate appearances of all time (4,300) and second-highest lefty plate appearance rate (68.6%). It's incredible how quickly this has changed in just a few years.
So: Who should it be? It can't just be any lefty, to be sure. There's no point in having one just to have one. General manager Brian Cashman said as much on MLB Network Radio on SiriusXM in December, accurately pointing out that "ultimately, what you don't want to do is remove the high-end bat — whether it's an elite hitter or an above-average right-handed hitter — from your lineup and drop down a category or two just because you're trying to insert the left-handed bat and now all of a sudden you're not as good because of it."
That sounds right to us, so it can't just be "a lefty bat." It's got to be one that fits, that is worth the roster spot. Let's go find one:
The reunion with an old friend: Gardner
We'll start with this because it's the simplest and most obvious, since Gardner has been a part of the Yankees organization since being drafted in 2005, and he has shown little indication that he wants to play elsewhere. Aside from being well-proven in the Bronx and popular with the fans, Gardner is still productive. Despite a career-low .223 batting average in '20, Gardner's excellent 16.5% walk rate (and .354 OBP) still gave him a 108 OPS+, making him slightly above average, and similar to the 103 OPS+ he put up from '17-19.
As Gardner nears his 38th birthday, he wouldn't likely be expecting an everyday job or more than a one-year deal, and he's still a competent defender in left field and center, so it's not hard to see this at all. The issue, perhaps, is that the roster fit isn't as obvious as it once was. A year ago, Clint Frazier was a continued enigma on the Yankees' roster; now, after big steps forward on both offense and defense, he has to be considered the left-field starter headed into the season. Gardner would be fine off the bench, but then there would be redundancy with Tauchman, a younger lefty, and one who can also play right, which Gardner does not.
The lefty that plasters righty pitching: Pederson
Look, if you're going to get a lefty, it might as well be one who is an absolute masher when he's put in the right spots, right? And if that lefty masher is only any good against righty pitching and is all but unplayable against lefties, well, what better lineup to put him in than one that is so righty-heavy they could ensure he'd never have to face a lefty?
Outfielder Joc Pederson, to be clear, is not coming off a good season, posting a .190/.285/.397 line (84 OPS+), though in a partial season that was further interrupted by a stint on the family medical emergency list. (He did, for what it's worth, come back to perform well in the postseason, hitting .382/.432/.559 in 37 plate appearances.)
But set 2020 aside, as we're doing for so many others, and look at Pederson's numbers from '15-19, comprising the bulk of his Major League career. Against righty pitching, he posted a .353 OBP and a .512 slugging, a line about 30% better than average, better than Marcell Ozuna and similar to George Springer. It is, among players with 1,000 plate appearances against righties in that time, a top-30 line. It's really good.
Against lefty pitching … well, it's not great. His .190/.264/.314 line from 2015-19 gives him one of the largest platoon splits on historical record. But on this team, he'd never need to face a southpaw, and you'd certainly enjoy seeing his pull-heavy spray chart at Yankee Stadium. Pederson isn't as good a fielder as Gardner, but he can play right field, and he offers a more diverse skillset than Tauchman or Gardner. There's a lot to like about this one.
The lefty that adds elite contact skills: La Stella
When you have high-powered sluggers like Aaron Judge, Giancarlo Stanton, Luke Voit and Gary Sánchez, you're going to have some swing-and-miss in your lineup, and the Yankees do, though not nearly to the extent their fan base seems to perceive. (While striking out in 22.7% of plate appearances, as the Yankees did from 2019-20, sounds like a lot, it's actually only the 19th-highest number in the Majors.)
Still, it's nice to make more contact, and having just returned the hitter with 2020's second-lowest strikeout rate (LeMahieu, 9.7%), they could potentially also add the player with the season's lowest strikeout rate in Tommy La Stella, who whiffed in a mere 5.3% of plate appearances. He's no mere slap hitter, either, having hit 21 homers with a .471 slugging percentage over the past two years.
Like Pederson, he has large platoon splits (over the past three years, his OPS vs. lefties is .628, while it's .835 against righties), though again, the Yankees would never need him to face a lefty, and over the past two seasons, he's been the 12th-best lefty-on-righty hitter in baseball. While he's not a strong defender, his ability to fill in at first, second and third base — in addition to LeMahieu being able to do the same things, just better — would give manager Aaron Boone considerable flexibility. As a bonus, La Stella grew up as a Yankees fan in northern New Jersey.
(Brad Miller is a version of this type of player too, with more defensive value but also considerably more strikeouts. Michael Brantley, better than either player, would fit the "elite contact skill" bill as well, though we imagine he's more interested in a team with a clearer everyday lineup spot.)
The familiar lefty who would require a big trade: Gregorius
If there's a mild downside to LeMahieu's return, it's that they no longer have the option of moving Gleyber Torres to second base, where his defensive deficiencies wouldn't be quite so visible as they are at shortstop. Unless, that is, the current infield alignment of Luke Voit (1B) / LeMahieu (2B) / Torres (SS) / Gio Urshela (3B) were to change in some way. Maybe that's a trade of Voit or Urshela for pitching, moving LeMahieu to a corner and Torres to second. Maybe it's just a trade of Torres. Those possibilities are endless, and the specifics aren't the point here. Opening up shortstop is.
If they did that, maybe they go all-in on defense with Andrelton Simmons. Maybe they bet on Marcus Semien looking more like his 2019 breakout and less like he did before and after that. Or maybe they go with an old friend in Gregorius, a popular lefty shortstop bat who hit 97 homers in five years as a Yankee thanks to a swing seemingly perfectly engineered for Yankee Stadium's short porch.
Now, this isn't without risk. Gregorius is a better fielder than Torres is, but the defensive metrics haven't exactly loved him either. He did manage to put up a 119 OPS+ for the Phillies, but the Yankees would surely be wary of his continually below-average hard-hit rate. This is probably something you do for only one season, while you wait for next winter's Corey Seager–Trevor Story–Francisco Lindor–Carlos Correa–Javier Báez free-agent shortstop bonanza to hit.
But this would certainly be popular with Yankees fans, and it likely would upgrade the middle-infield defense, as well as adding that lefty bat. Maybe this is just too many moving parts to really happen. It remains an option, though.
Again, the Yankees don't absolutely need a lefty hitter. They certainly have done well enough the past few years without one, aside from Gardner and Hicks. But when it comes to the playoffs, when the other team is mixing and matching platoon situations as much as it can — like, say, the Rays — wouldn't it be nice to have something to answer with?