"Realistically," wrote MLB.com beat reporter T.R. Sullivan recently, "
. At least."
That sounds right. The last-place Rangers just posted the second-worst record in the Majors, their fourth straight losing year. They scored the second-fewest runs per game (3.7) and allowed the fifth-most (5.2). They are, looking ahead to 2021, projected to have the lowest-performing roster in the American League, and while the farm system is improving, they don't have a prospect rated higher than 50th overall, either. If 2020 was short, '21 is going to be long.
None of this is a reason not to improve the 2021 roster, of course. (For example: A long-term play like Korean infielder Ha-seong Kim.) If Texas can finally welcome home fans into Globe Life Field a year after it opened, you'd like to make sure those fans have a watchable product to see, and incremental improvements are still improvements. But it does make you think about the future, and the fastest way to get back to contending, which brings us to the unavoidable topic: What are the Rangers going to do — what should they do — with Lance Lynn?
Lynn will be entering the final year of a three-year deal he signed with Texas before the 2019 season. If that seemed somewhat surprising at the time for a pitcher who had just come off of a 4.77 ERA for the Twins and Yankees, it's turned out to be an incredible value since. In two years for the Rangers, Lynn is:
• First in the Majors in innings (292 1/3)
• Fifth in Wins Above Replacement (8.3, FanGraphs version)
• 16th in strikeout rate (27.5%)
• Fifth in fastball swing-and-miss (30.3%)
He's not flashy, in the sense that you think of him in the same sentence as dominators like Shane Bieber or Jacob deGrom. But he's been durable, and he's been valuable, and it's not by accident, because he's a very different pitcher from when he was with St. Louis.
First, as we noted just before the Rangers signed him, he made a noticeable move on the mound just after being traded to the Yankees in 2018, which helped him post a 38-to-1 strikeout-to-walk against righties after the trade. After noting that the Yankees version of Lynn had been a Top-15 pitcher in 2018's second half, we wrote, either presciently or regrettably depending on how you prefer to view it, "absolutely no one thinks Lynn is one of the five or 10 or 25 best starters in the game, because he's not." Whoops.
Lance Lynn did some things.

MORE -> https://t.co/cBqtAU2iPO pic.twitter.com/psS23tUTzT

— Mike Petriello (@mike_petriello) November 27, 2018
In August, MLB.com's Thomas Harrigan dug into what made Lynn improve so much with Texas, and he came away with a few different answers, noting changes in his cutter command, differences in his pitch tunneling and noting that he's decreased the usage of his two-seam fastball.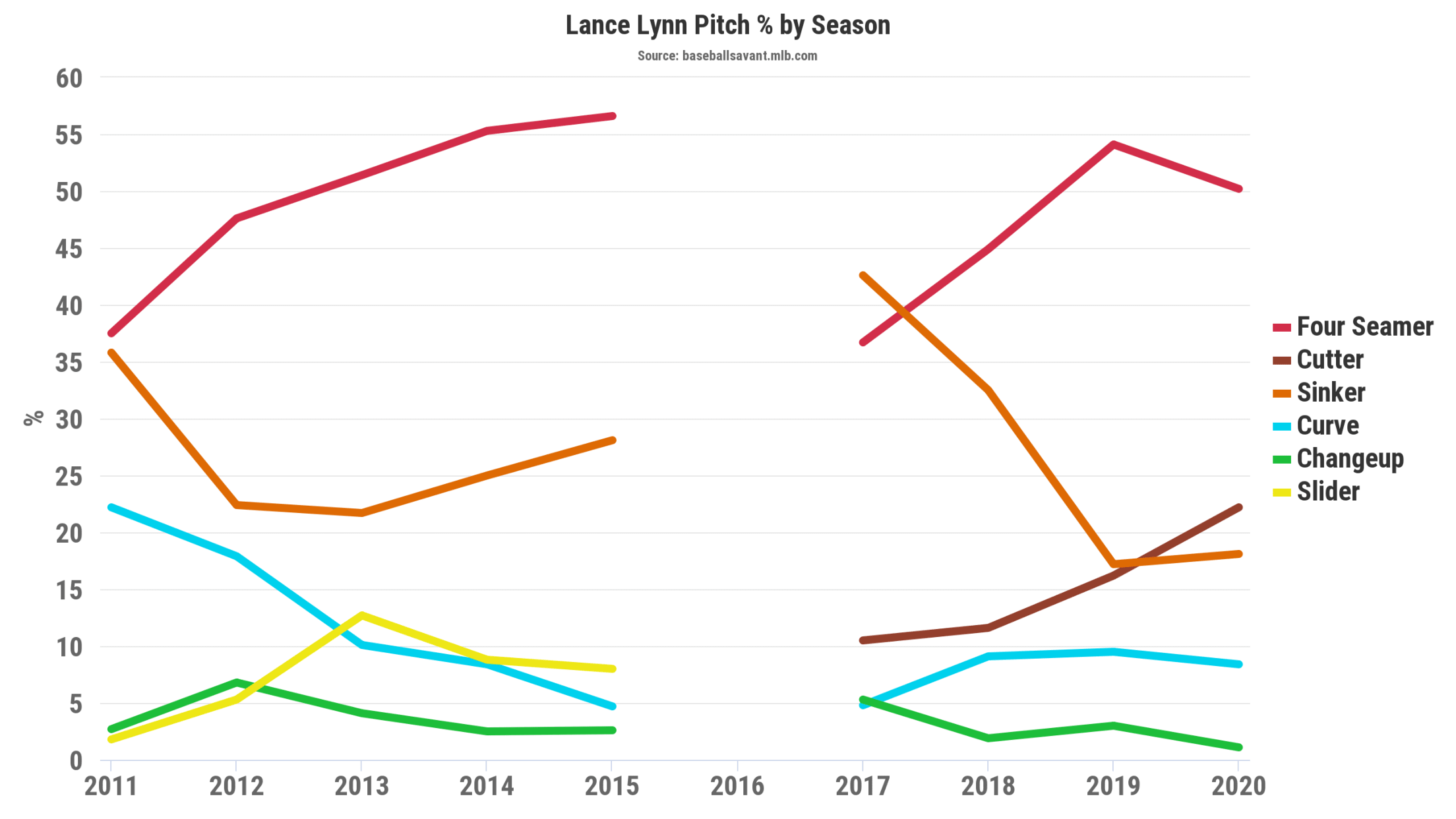 We could spend another 1,000 words explaining how he's become a star, but the short version here is "he's good," "he's good in a way that seems repeatable, not flukish," "he's projected to be a top starter in 2021" and "he's only due $9.3 million in the final year of his contract," a more than reasonable figure even in this pandemic winter of expected belt-tightening.
So that's all the math that works. Here's the math that doesn't. Lynn will be 34 next year, in the final year of his deal. The Rangers are almost certainly a good three years away from contending. What, then, do they do?
It seems to us that there's three options.
Sign him to an extension
OK, sure! That's a possibility. You could explore a contract extension, keeping him atop your rotation in 2021 and for an additional few years beyond that. Even if he's not your top starter — or even on the roster — by the time Texas is next competing, there's still value in his presence helping you along the journey in getting there. While it's difficult if not outright impossible to quantify his leadership of the younger pitchers on staff, there does seem to be something to that.
Of course, if Sullivan is right about the contention window, you're hoping for Lynn to still be productive at age 36 or 37, which is a high bar to clear. Notably, there's been no rumors about this happening whatsoever; the most recent post about him on MLB Trade Rumors is more than two months old, in reference to him not being traded last summer. That doesn't mean there aren't any discussions happening, but we're not aware of them if they are.
Still, "keeping your best player" is always a viable solution, so there's at least merit here for another multiyear deal.
Do nothing
Texas could also just let Lynn enter 2021 on the final year of his deal, potentially trading him at the Deadline or simply letting his contract expire.
Without him, the top two Texas starters might be Jordan Lyles (7.02 ERA in 2020, 5.22 career) and Kyle Gibson (5.35 in 2020, 4.57 career). They're probably not going to win with Lynn in 2021, but it would be seriously grim without him.
Still, this is a risky option, because even with him, it's difficult to see any version of the 2021 Rangers that can compete in the American League. There's also a few recent reminders of teams that held onto pitchers long enough to watch their value decline, like the Tigers with Matthew Boyd or Michael Fulmer, or even arguably the Rangers themselves with Mike Minor.
There's more to this decision, too, since they can't even issue him a qualifying offer in hopes of collecting Draft-pick compensation. That's because the Cardinals already did that after 2017, and players can only be given the offer once. Once he's gone, he's gone.
You probably don't want to do this. At the end of 2021, unless he's suffered a serious injury, you'd like to think you'd have either retained him or traded him.
Trade him
Now we're talking. Take a look at the starting-pitcher free-agent list, with Marcus Stroman, Kevin Gausman, Robbie Ray and Drew Smyly all off the market. There's Trevor Bauer, the obvious best pitcher available. And then there's … Masahiro Tanaka? James Paxton? Jake Odorizzi? Corey Kluber? Charlie Morton, if he can be convinced to leave the Southeast? It thins out quickly, to the point that teams looking for help might be more interested in turning to the trade market — especially considering Lynn's reasonable salary.
Of course, this only matters if the return is considerable. He doesn't make enough to worry about clearing his salary, and his removal from the 2021 team isn't worth a low-probability lottery ticket. It's actually surprisingly difficult to find similar examples of a pitcher of this caliber being traded entering the final year of his contract, which makes it hard to suggest particular returns.
We're now legally obligated to mention some places that could be fits, so let's do that, focusing on contending teams who could use another solid starter at a more-than-reasonable price.
Padres: With Mike Clevinger out for the year and Dinelson Lamet coming off his own arm problem, the National League's most exciting young offense could surely use a top arm to go with Chris Paddack and Zach Davies.
White Sox: Speaking of exciting young offenses, the Sox have young ace Lucas Giolito atop their rotation, reliable veteran Dallas Keuchel behind him and an enormous amount of uncertainty beyond them.
Angels: The team that can never seem to get Mike Trout to the playoffs is constantly in need of starting pitching, and the old saw about "not trading within your division" doesn't seem to apply any longer. "Pitching is going to be a major priority," said new general manager Perry Minasian shortly after taking over. It'd better be.
Braves: Atlanta has a talented rotation, but not one with a great deal of reliability outside of ace Max Fried. When can Mike Soroka return from his Achilles tear, and how limited will he be? Can Ian Anderson replicate his great-yet-limited late-season debut? Will Smyly retain his 2020 velocity increase and stay healthy doing it? Is Kyle Wright better than his 6.22 career ERA? We saw them scramble for starting help in 2020; you can imagine they'd prefer not to do that again.
Blue Jays: Toronto sounds serious about contending, and that requires a bigger rotation upgrade than just the inconsistent Ray. That's especially true because even though Hyun Jin Ryu was great in his Blue Jays debut, he's hardly known for long-term durability.
Others: The Cubs could use another starter with Jon Lester, Tyler Chatwood and José Quintana all off to free agency, though their offseason direction is very unclear; the Yankees need to figure out how they're replacing Tanaka, Paxton and J.A. Happ; the A's may want to reinforce their rotation and are always interested in cost-controlled players, and while we're here, all of that for the Rays, too.
The point is, Lynn is valuable, especially among the set of teams that won't be interested in meeting Bauer's asking price and don't think there's a remaining difference-maker out there. The Rangers might just as well prefer to extend him, too, and that'd be fine. But for a last-place team that's not likely to sign one of the big-name free agents themselves, Texas is still going to have a lot to say about this winter — if it chooses to.