The Mets' blockbuster trade for Francisco Lindor and Carlos Carrasco isn't the first time the Braves have seen a National League East rival push their chips to the middle. The Phillies opened their warchest and added Jake Arrieta, Bryce Harper and Zack Wheeler. Former Mets general manager Brodie Van Wagenen
The Mets'
for Francisco Lindor and Carlos Carrasco isn't the first time the Braves have seen a National League East rival push their chips to the middle. The Phillies opened their warchest and added Jake Arrieta, Bryce Harper and Zack Wheeler. Former Mets general manager Brodie Van Wagenen famously dared the NL East to "come get" the Amazin's after they added Jed Lowrie and Wilson Ramos prior to 2019.
And yet it's the Braves who lay claim to each of the last three NL East titles. Atlanta's moves haven't been as splashy, but the club's talented foundation of stars in Ronald Acuña Jr., Ozzie Albies and Freddie Freeman have allowed general manager Alex Anthopoulos to stay ahead with shrewd additions. Now, the Braves face another test: FanGraphs' projection model has the Mets (.561 projected winning percentage) slightly ahead of Atlanta (.538) after adding Lindor and Carrasco — and Steve Cohen and company probably aren't done shopping. New York might already hold small advantages over the Braves on offense and with the gloves.
Anthopoulos has proven he can position the Braves at the top, however, and Acuña, Albies and Freeman haven't gone anywhere. But Atlanta probably needs to respond. Here are three ways it could do so.
Sign Marcell Ozuna
It was assumed from the moment Ozuna became a free agent that teams would view him strictly as a designated hitter because of several high-profile misplays in the outfield. Thus, his market has been handicapped by whether the universal DH will remain in 2021.
Ozuna was unquestionably bad in left field for the 2019 Cardinals, ranking near the bottom with -8 Outs Above Average (Statcast's chief defensive metric) while also underperforming by Statcast's jump metric and encouraging baserunners with a throwing arm diminished by shoulder surgery. He has let it be known this winter that he wants to be an outfielder again. His arm should be another year stronger, and he wasn't as disastrous in the corners for Atlanta during the shortened 2020 season (-1 OAA) as he was for St. Louis.
But the argument here isn't that Ozuna will suddenly become anything like the Ozuna who won a Gold Glove Award in 2017. It's that whatever he takes away on defense won't supersede what he just did at the plate.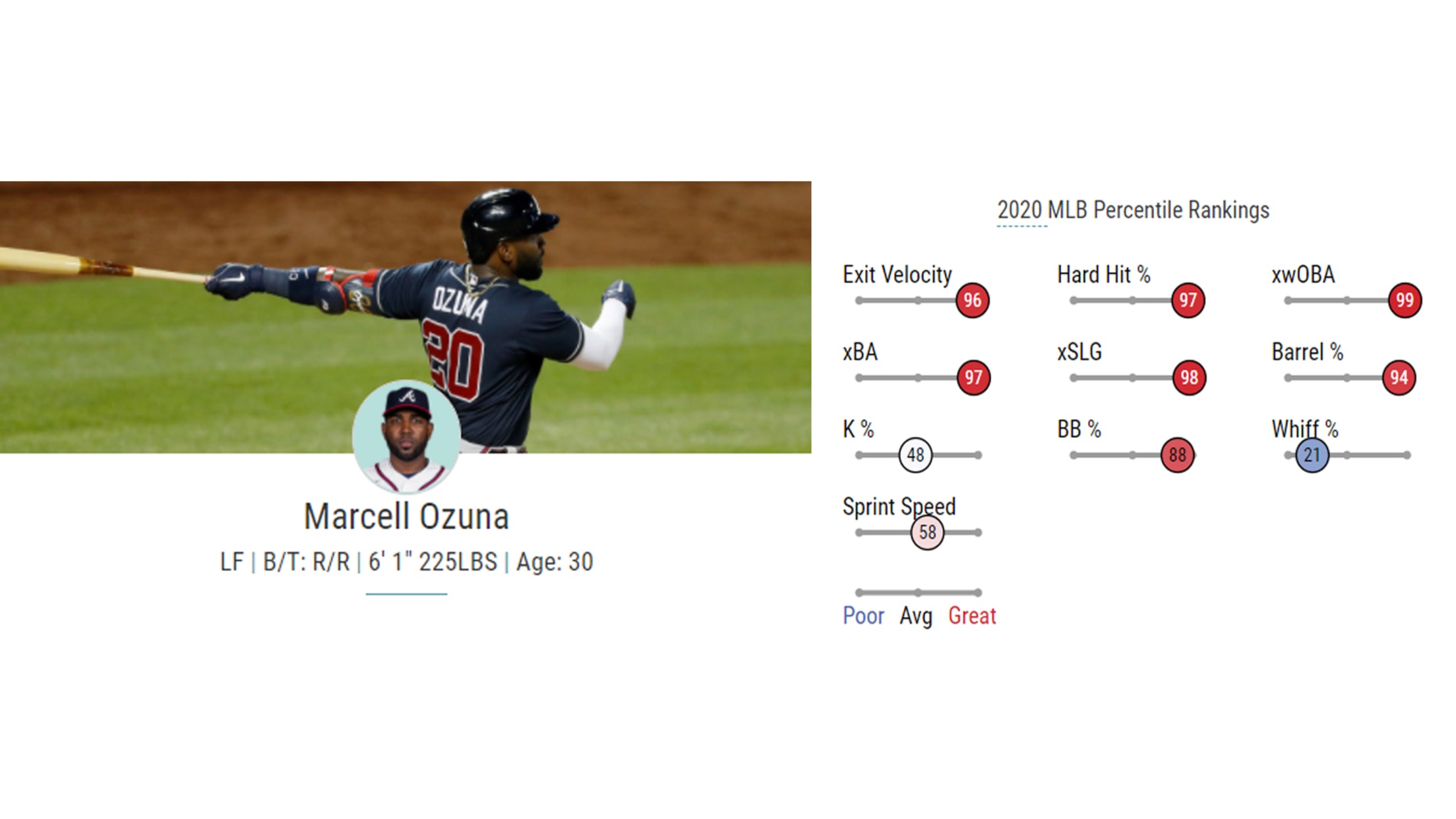 When Freeman accepted his 2020 NL MVP Award, he pointed out how much he was helped by hitting between Acuña and Ozuna — possibly the best protector Freeman has ever had behind him. Freeman and a revitalized Ozuna formed one of the best middle-of-the-order combos in Braves franchise history, and it was the offense that carried Atlanta to within one game of its first pennant since 1999. With Ozuna, Adam Duvall and Nick Markakis all on the free-agent market, Atlanta's projected outfield has defensive specialists Ender Inciarte (ZiPS-projected 79 OPS+, 1.0 fWAR) and Christian Pache (80 OPS+, 0.9 fWAR) flanking Acuña in center.
George Springer, whose asking price of at least five years and $125 million likely sits beyond Atlanta's' comfortability, is the only other free-agent outfielder who matches Ozuna's offensive promise. The Braves could sign Ozuna to a shorter and more affordable deal (especially now, while his market is frozen), and live with his defensive shortcomings for just one season. The universal DH will in all likelihood be adopted for good as part of next winter's CBA negotiation.
Take away your rival's cornerstone
No, not the Phillies' cornerstone in J.T. Realmuto. We're talking the Braves' postseason rival that's knocked them out in two of the last three years.
Maybe Anthopoulous decides Ozuna's defensive risk is too much to stomach. Freeman — now just one year from free agency — still needs protection, and believing that catcher Travis d'Arnaud will repeat his otherworldly 2020 campaign in the cleanup spot is probably just as risky as re-signing Ozuna. Meanwhile, Justin Turner's name hasn't popped up much on the rumor mill, simply out of the assumption that he'll eventually re-sign with the Dodgers. But as the offseason stretches on, the Braves could strike their recent postseason rival where it hurts.
Turner has long been a clubhouse leader for Los Angeles, even while the Dodgers were linked in trade discussions for stars like Lindor, Nolan Arenado and Trevor Story that could have threatened Turner's standing at third base. And the fact is that while Turner may have lost a step defensively, he seems to have plenty left at the plate (139 OPS+ across the last three seasons). Turner is an ideal bash-mate for Freeman, and at age 36, he could be signed to a short-term deal similar to the ones Anthopoulos gave veterans like Ozuna and Josh Donaldson. Signing him would likely move Austin Riley's power bat to left field and relegate Inciarte to a more appropriate role as a fourth outfielder.
It's an unlikely scenario; Turner would probably choose Los Angeles if asked to pick between short-term contracts from the Dodgers or Braves. But the longer Turner stays unsigned, the greater the opportunity for Atlanta to swoop in.
Load up on rotation depth
The Braves' rotation might be deeper than the Mets', but it also carries as much variance as any starting five in baseball. Charlie Morton can be the stud he was last postseason, or he could be the 37-year-old who needed much of last year's regular season to build up his fastball velocity. How quickly can Mike Soroka rejoin the rotation, and will he be 100% when he does so? How realistic is it to expect that Ian Anderson will continue to be as dominant as he was down the stretch? Kyle Wright was inconsistent in 2020, and free-agent signing Drew Smyly is far from a guaranteed hit.
Atlanta's starters are high on both promise and risk, and the rotation could use a stabilizing force. Luckily, there is no shortage of options for Anthopoulos' patented one-year deals out there in the market. Georgia native Adam Wainwright, who the St. Louis Post-Dispatch recently reported was less of a sure bet to re-sign with the Cardinals than Yadier Molina, continues to defy Father Time. How about Rich Hill, who now has a full offseason to rehab and rest after putting up his typical quality numbers (3.03 ERA, 3.99 FIP) with the Twins? The Braves might find the right price point the longer Arrieta, J.A. Happ and Jon Lester sit on the market, and Mike Fiers, José Quintana and Rick Porcello are all proven mid-rotation options. Atlanta has a number of ways it can go here.