Report: MLB, MLBPA Discussing New Sign-Stealing, Video Rules for 2020 Season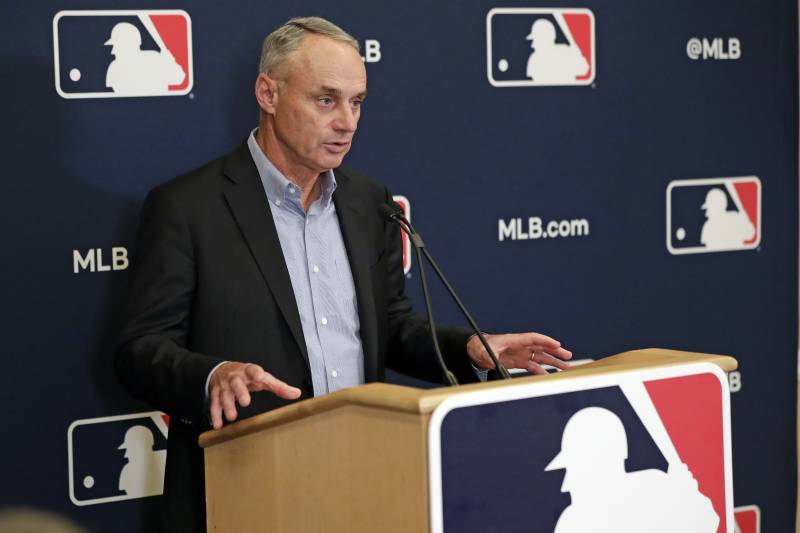 Image- John Raoux/Associated Press
Even though the start of the 2020 season is two days away, MLB and the players association have not yet finalized some crucial rule changes.
Per The Athletic's Evan Drellich, owners and players are still discussing regulations for "electronic sign-stealing, in-game video usage and related discipline."
One potential issue for players that was previously reported by The Athletic's Andy McCullough is the extent to which MLB will limit in-game video access.
Hitters and pitchers routinely use video footage during games to go over previous at-bats in an attempt to make adjustments.
"Some hitters swear by the ability to review an at-bat during the same game, with the help of a camera that might be installed along the backstop, for example," Drellich wrote about the ongoing negotiations. "The parties discussed editing solutions to provide players video of their swings but without a view of the catcher's signs."
Drellich noted players are likely fighting to keep "as much video access as possible," while the league may have "moved to shut off most or all clubhouse access for players during games" if it had unilateral authority to do so.
The Houston Astros and Boston Red Sox were both disciplined by MLB earlier this year for sign-stealing violations. The Astros were fined $5 million and forfeited their top two draft picks in 2020 and 2021 for using an elaborate video system that included a camera in center field and video replay room to steal signs from opposing teams during the 2017 season and part of the 2018 season.
Manager A.J. Hinch and general manager Jeff Luhnow received one-year suspensions, and both men were fired by the Astros.
The Red Sox forfeited their 2020 second-round draft pick, and video replay system operator J.T. Watkins was suspended for the entire 2020 season and playoffs. Alex Cora, who was fired in January for his role in the Astros' scandal when he served as their bench coach, was suspended for the season.
Per MLB Commissioner Rob Manfred, Watkins utilized game feeds "on at least some occasions" during the 2018 season while in the replay room.
Last year, MLB banned all non-broadcast outfield cameras from foul pole to foul pole in an attempt to prevent high-tech sign-stealing by teams during games.
The 2020 regular season is scheduled to begin Thursday, with the reigning World Series champion Washington Nationals hosting the New York Yankees, and the San Francisco Giants facing the Los Angeles Dodgers at Dodger Stadium.
Around Third
via Adam Wells, Bleacher Report – Front Page https://ift.tt/2gMI6gF
July 21, 2020 at 10:56AM