The Mets made a huge splash last week — trading for superstar shortstop Francisco Lindor and frontline starter Carlos Carrasco. Does it make them a favorite to win the NL East and reach the World Series this season? Sure, those are definitely possibilities. We'll have to see how the year
The Mets made a huge splash last week —
superstar shortstop Francisco Lindor and frontline starter Carlos Carrasco. Does it make them a favorite to win the NL East and reach the World Series this season? Sure, those are
definitely possibilities
. We'll have to see how the year plays out.
But what is already very apparent — one major fact that not enough people are talking about — is that the Mets are now, officially, the best nicknamed team in baseball.
Mr. Smile (Lindor) and Cookie (Carrasco) join an already robust cast of animals, superheroes and condiments down at Citi Field. Here are the stories behind some of the best.
Pete Alonso, Polar Bear
Maybe the most famous nickname of the bunch, but one with a very simple explanation: Teammate Todd Frazier saw Alonso in Spring Training 2019 and said, "You just look like a big ole' polar bear." Maybe Frazier thought he actually looked like a polar bear or maybe he just forgot Alonso's name (something he does with teammates all the time). Either way, it stuck, and the legend of Polar Bear Pete was born.
If you are looking to add a player to the NL All-Star roster, @JeffMcNeil805 and @TheRealSmith22 have a suggestion. ❄️🐻 pic.twitter.com/kAtcdgo4x3

— New York Mets (@Mets) June 28, 2019
Jeff McNeil, Squirrel
Another member of the animal kingdom, the Mets utilityman also got his name because of his looks. It came about back in college at Long Beach State. The New York Times wrote up a great description of it all in 2019.
"McNeil, 27, is the Mets' most valuable grinder. His blond goatee whiskers and notable nimbleness earned him the nickname Squirrel during his days diving for line drives as an outfielder at Long Beach State, and he has continued to pounce on any opportunity."
He may have even graduated to Flying Squirrel after this catch in Chicago.
Dominic Smith, The Sloth Bear
Maybe not as intimidating as The Polar Bear, the Sloth Bear is still, well, a giant bear — and who wants to mess with one of those? The story goes that J.D. Davis and Smith were at the zoo together one day and when they came to the Sloth Bear exhibit, Davis saw a resemblance. Smith explained it in a Twitter clip last season.
Dom Smith has had a few nicknames in his day, but a favorite in the clubhouse this year was The Sloth Bear 🤣🐻

Dom talks New York vs. LA, his high school scouting report, and more on Mets All-Access!

FULL EPISODE: https://t.co/zk4sY3J5m6

➡️ @GEICO pic.twitter.com/JSpb2LEayn

— SNY (@SNYtv) November 3, 2020
J.D. Davis, Bubbles
Speaking of Davis, the Mets' third baseman has been called "Bubbles" since his high school days. It, um, has something to do with Kim Kardashian and … I'll just let Davis tell you why.
Francisco Lindor, Mr. Smile
This one is fairly obvious if you take one look at Lindor: He has a grin you can see from space.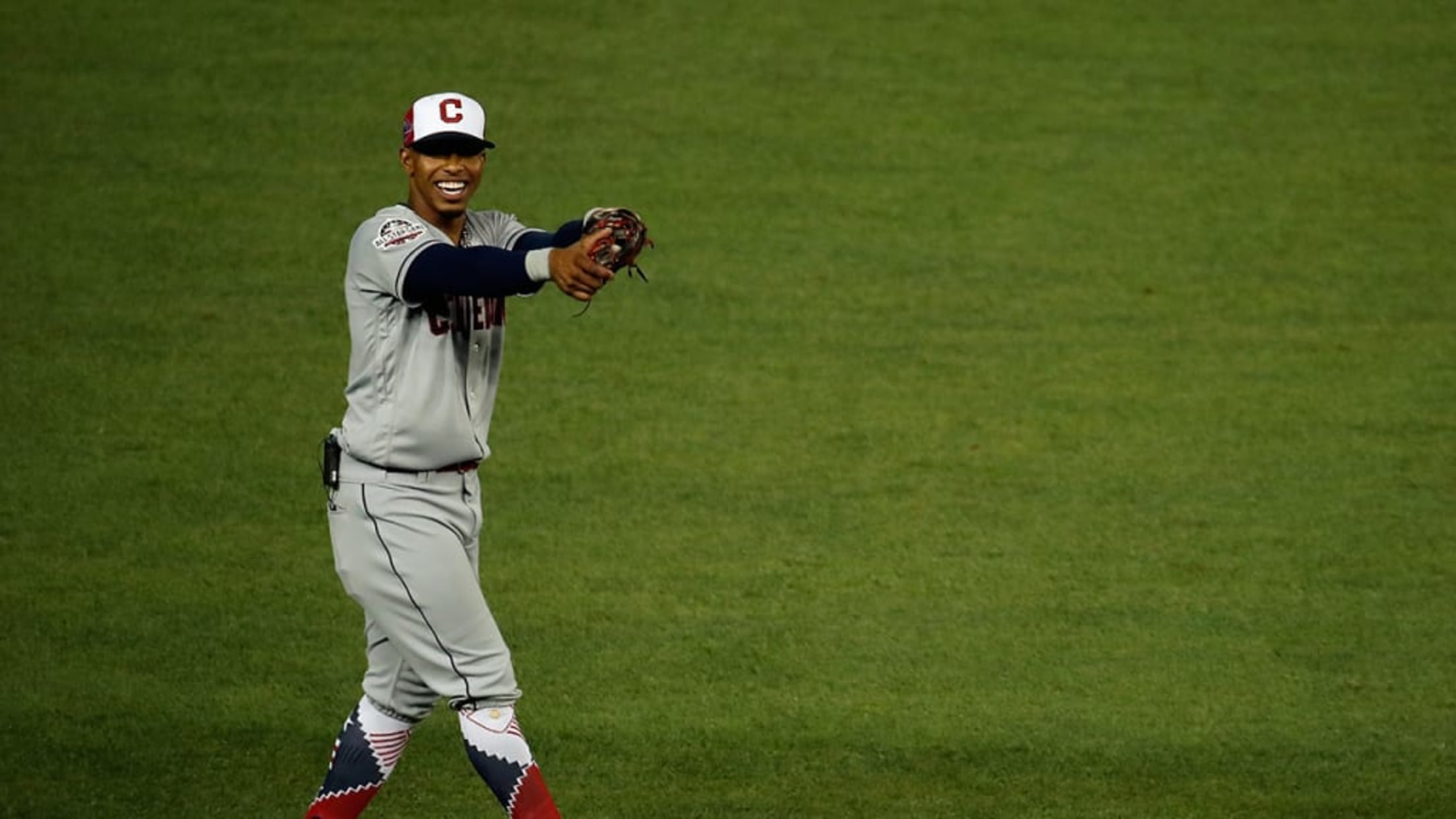 The new Mets shortstop has even considered becoming a dentist after his experience with braces. Warning: This is maybe the sweetest quote you'll ever read.
"I've always been the type of kid that always smiles, but since I got my braces off I was smiling even more … it gives you that confidence … and I would love to be able to help people that way."
Noah Syndergaard, Thor
Syndergaard, and most of the baseball world, has fully embraced his superhero nickname. It's become so attached to the Mets starter that people might even think it's what his parents wrote down on his birth certificate.
He looks like him, he has gloves that bear the name and, honestly, he may actually be the God of Thunder.
Dear Empire State Building: Wasn't me (For liability purposes only) pic.twitter.com/OJvxm5s32B

— Noah Syndergaard (@Noahsyndergaard) July 26, 2016
Carlos Carrasco, Cookie
Another very simple one: back in 2011, Carrasco was eating cookies in Cleveland's clubhouse and teammate Chris Perez saw him. That's all it took. Seriously.
Chris Perez saw me eating cookies in 2011 and started calling me Cookie! https://t.co/AhWbBGI7Vd

— Cleveland Indians (@Indians) March 4, 2016
Good thing he wasn't eating broccoli or lasagna.
Edwin Díaz, Sugar
The Mets closer was designated the fantastic nickname back in 2010 by his friends, when they thought he resembled Miguel "Sugar" Santos from the 2008 movie "Sugar." He does kind of look like him, but his fastball is probably just a little bit better.
(Also, when Carrasco and Díaz stand next to each other this season, they will be one giant baseball-themed Sugar Cookie).
Matt Monagan is a writer for MLB.com. In his spare time, he travels and searches Twitter for Wily Mo Peña news.