With
for the next six years, the best free-agent center fielder is off the market. Actually, his move to Canada cuts the starting-caliber free-agent market for that position in
half,
because there were only ever two: Springer and
Jackie Bradley Jr.,
who was probably waiting for exactly this moment. There are at least a half-dozen teams who could use a high-quality glove in center. There's only one Bradley. After a cold winter, it's finally his time to shine.
We're not kidding about the the lack of depth in center. Go check out the FanGraphs list of free-agent center fielders. Only six names came in with 2021 projections of at least 0.7 WAR or more — and even that comes with a caveat. One is Springer, who's off the board now. One is Kevin Pillar, who was once an elite glove in his 2015-17 heyday, but profiles more as a fourth outfielder now as he's aged and slowed. Three others have experience in center, but for various reasons of age or positional flexibility aren't everyday options there now (Brett Gardner, Enrique Hernández and Adam Eaton, who will play right for the White Sox).
The sixth, and final, is Bradley, because otherwise, you're looking at lower-end backup types like Jake Marisnick, Ben Gamel and Albert Almora Jr. If you want a starting center fielder, and you want to do it via free agency rather than trade, Bradley is the only man left — which puts him in an enviable position.
He is, to be clear, an elite outfield defender. Though the various defensive metrics have a surprising amount of disconnect on his value, Statcast's Outs Above Average seems to match the eye test best, in that he consistently rates at or near the top of his position.
2020: +7 OAA (tied-2nd overall, tied-1st among CF)
2019: +6 OAA (tied-40th overall, tied-11th among CF)
2018: +12 OAA (tied-12th overall, tied-10th among CF)
2017: +15 OAA (7th overall, 5th among CF)
It's the consistency, too, because if you combine those four years together and look at all positions, you get this, which has Bradley up there with some of the truly elite defensive players in baseball.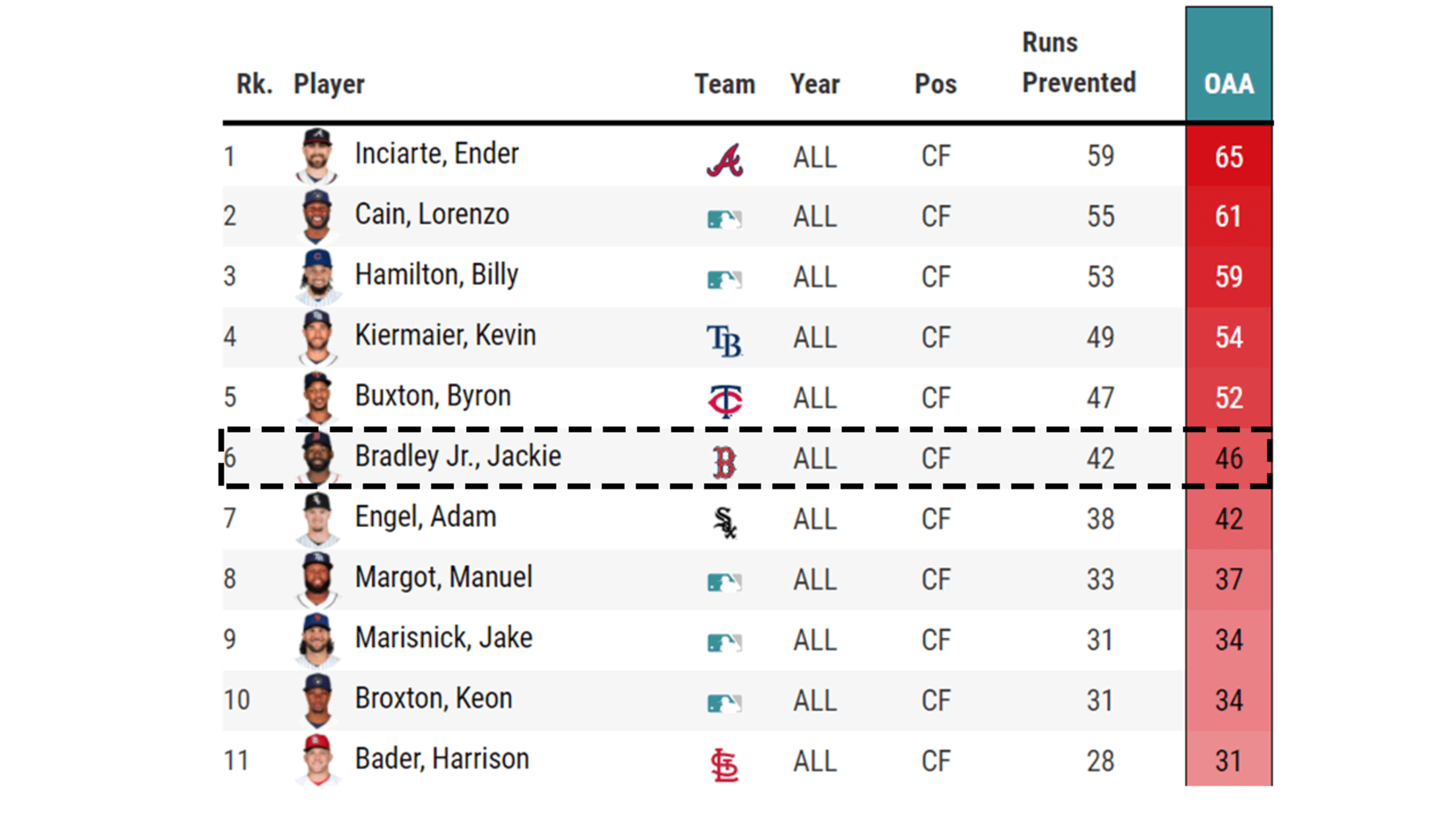 It's important to note, too, that OAA does not currently include any consideration of an outfielder's arm, and Bradley has a good one. He's repeatedly topped 100 mph on throws from center.
And, since we're here, we might as well take the time to watch some incredible defensive plays, right? Here he is this past August, robbing Brandon Lowe on an opportunity that is a hit three-quarters of the time across the league.
Here he is way back in 2014, in his first full season, before Statcast even existed. He's been doing this forever.
As for the bat … well, we'll get back to that. Let's first start with the teams who really, truly, desperately need a center fielder. Our five favorite, in order, with their projected outfield starters at each spot included:
Astros
Current projected starters: LF Michael Brantley, CF Myles Straw, RF Kyle Tucker
No, Bradley wouldn't be a satisfying 1:1 replacement for Springer, but that's not really the point now. All three 2019-20 starting Houston outfielders (Springer, Michael Brantley and Josh Reddick) became free agents, and while you could pencil Kyle Tucker into one corner spot in 2020, they had some pretty big question marks until bringing back Brantley on a two-year deal this week. Straw, 26, is one of baseball's fastest players, but he also has a 75 career OPS+ and is better suited as a bench player.
It's easy to write off the post-Springer/Gerrit Cole (and with Justin Verlander injured) Astros, but that might be selling them short. They still have that star-studded infield and better starting pitching than you think they do. They came within one game of the World Series in 2020. They are, even now, projected as a Top-5 team, and even if you think that's a little high, there's not clearly a better team in the AL West. Imagine Bradley patrolling center and hitting eighth?
Phillies
Current projected starters: LF Andrew McCutchen, CF Roman Quinn, RF Bryce Harper
Over the past two seasons, Philadelphia center fielders have hit .235/.301/.374, tied for the sixth-worst mark in baseball. That's mostly because Quinn and Adam Haseley are probably better off on the bench, and because Scott Kingery has never really gotten going (and is probably more of an infielder anyway). This was all true a year ago too, by the way, and it's difficult to see the Phillies trying the same collection again in 2021. This isn't, to be clear, as big a deal as fixing that bullpen or retaining J.T. Realmuto. Then again, the Philadelphia defense has generally been dreadful, and neither McCutchen nor Harper are plus defenders in the outfield these days. Bradley's an easy fix.
Mets
Current projected starters: LF Dom Smith, CF Brandon Nimmo, RF Michael Conforto
Springer had clearly been a target here, so Mets fans might now be looking to Bradley, and you can see the fit. The Mets' defense, like Philadelphia's, has been incredibly poor over the past few years. Nimmo won't kill you in center, but he's clearly a better fit in left. And while we've long pointed to the fact that a lefty bat like Bradley may not be a great fit on a lefty-heavy team, that's less of an issue now that Robinson Canó is suspended and switch-hitter Francisco Lindor has been added.
But there's a larger issue at play here, and that's the uncertainty over the DH in the National League. If the Mets get the DH, then they can get Smith out of left and back to first base, moving Pete Alonso to the DH spot he's better suited for. That would move Nimmo over and free up center field. But if that doesn't happen this year, then Bradley in center just takes playing time away from Smith, who would have to be more of a bench bat, and that might not be a net positive. This could still happen, but given the other moves they've made, they might just be better off with a righty fourth outfielder, the way they added Jake Marisnick last year, or, perhaps, Almora or Pillar.
Indians
Current projected starters: LF Josh Naylor, CF Bradley Zimmer, RF Daniel Johnson
Maybe Naylor plays first, or Oscar Mercado plays center, or Jordan Luplow gets some time, or Franmil Reyes has to pick up a glove, or … look, it doesn't really matter. This has been an issue for years, really. Cleveland had the AL's weakest outfield in 2020, and it was the sixth-weakest overall from 2019-20 and the ninth-weakest from 2018-20. It never seems to get better.
Now, you might think that in a winter where Cleveland has traded Francisco Lindor and Carlos Carrasco to the Mets that a win-now move isn't what they're interested in, and perhaps you'd be right. Yet they still have three-time AL MVP finalist José Ramírez, plus Shane Bieber, Zach Plesac and Aaron Civale in the rotation, as well as James Karinchak in the bullpen. Andrés Giménez and Amed Rosario, who came over from the Mets, comprise a new middle infield. They're likely to be competitive in the AL Wild Card race. Mostly, any time an outfielder comes up, we have to think about Cleveland.
Rockies
Current projected starters: LF Raimel Tapia, CF Sam Hilliard, RF Charlie Blackmon
Speaking of teams who could desperately use an outfielder … we've long thought of center field in Coors Field in the same way that most teams think of catching, which is that it should really be defense-first, due to the massive size of the outfield there. The Rockies have never really done that, for years going with the bat-first Blackmon, then trying Ian Desmond, occasionally trying David Dahl or Garrett Hampson, and last year trading for Pillar. It hasn't worked on either side of the ball. We'd love, just once, to see them go with a spectacular center fielder, just to see how much it might help their forever-beaten-down pitching. This remains unlikely to happen.
Maybe there are other teams. Those are the five we like. Now, about that bat:
One might look at Bradley's 2020 and think it was his best season since 2016, and it was, at least by OPS+, which sets 100 as league average.
2016: 118 OPS+
2017: 89 OPS+
2018: 92 OPS+
2019: 90 OPS+
2020: 118 OPS+
We should be doing somersaults over that, because it has become something of a running joke how often we've written about Bradley Jr.'s eye-popping underlying stats, about how he's been ready for a breakout, or just getting unfortunate results. A season with results nearly 20% above average should be validation of all of that.
It's not. Bradley Jr.'s hard-hit rate fell from 2018's elite 50.1% to 2019's good 44.2% to 2020's just-OK 36.1%. At the same time, his ground ball rate has gone up from 2018's 43.7% to 2019's 50.9% to 2020's 54.9%. While in the past he might have been underperforming, in 2020 it seemed like he was _over_performing.
All of which is to say that when we look at the 2021 projections and we see a hitter expected to be around 10% below average, in line with his 2017-19 production, that tracks to us. He's not a hitter you sign expecting him to be your No. 2 or No. 3 guy in a lineup. But for the right team, a team where he can bat in the bottom half and spend all day eating up fly balls, there's still a hit here. After all, it's not every day that one of baseball's elite defensive outfielders becomes available. For teams that need a center fielder, he's the only one left.