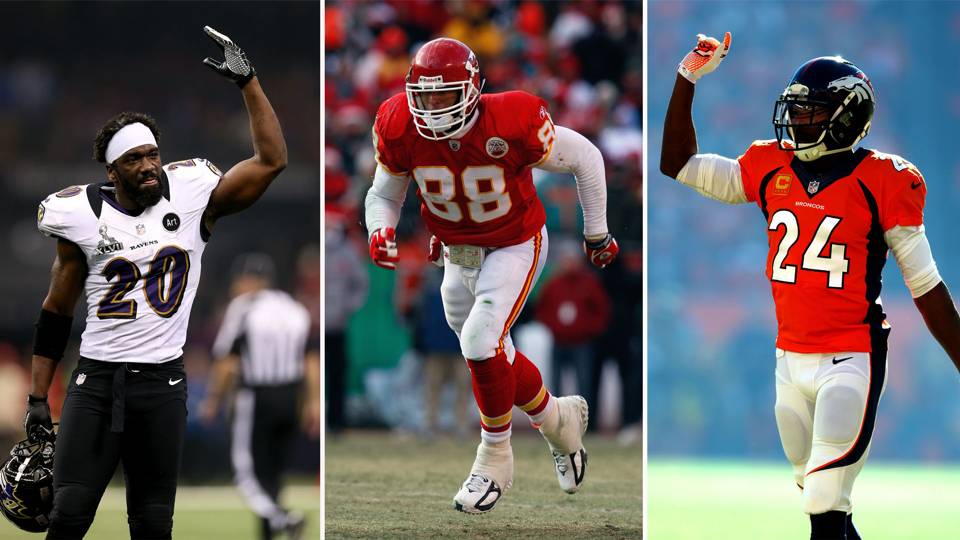 First-time candidates Tony Gonzalez, Ed Reed and Champ Bailey are among the 15 finalists for induction to the Hall in 2019.
The 15 finalists for the Pro Football Hall of Fame Class of 2019 were announced on Thursday night, with the former stars getting one step closer to being enshrined in Canton.
The list includes five first-time candidates, including cornerback Champ Bailey, tight end Tony Gonzalez, defensive end Richard Seymour and safety Ed Reed. The list has been narrowed down from 25 modern-era semifinalists.
The Hall of Fame selection committee will narrow the list to 10 and then five finalists. Those five finalists are voted on by the committee, and a player must receive at least 80% "yes" votes to make it into the Hall of Fame.
Here is the complete list of finalists:
Isaac Bruce, WR
Edgerrin James, RB
Tony Gonzalez, TE
Ed Reed, FS
Steve Atwater, S
Champ Bailey, CB
Ty Law, CB
John Lynch, FS
Kevin Mawae, C/G
Alan Faneca,G
Richard Seymour, DE/DT
Tom Flores, Coach
Don Coryell, Coach
Tony Boselli,T
Steve Hutchinson, G
Players are eligible to be a modern-era finalist for 20 years before they become a senior finalist. The Hall of Fame's senior committee selects senior finalists to be voted on as well as contributors. This year's senior finalist is safety Johnny Robinson. The contributing finalists are owner Pat Bowlen and executive Gil Brandt.
The Pro Football Hall of Fame's Class of 2019 will be announced during a two-hour primetime special that will air the night before the Super Bowl, on Feb. 2. The players who receive the requisite 80% vote will be enshrined next August.
http://bit.ly/2Topszi