Dustin Pedroia
from baseball on Monday, officially ending the career of one of the game's most unexpected and wholly unique stars. Standing just five-foot-nine and weighing in at a high school math teacher-like 170 lbs, Pedroia swung the bat like he was a hulking slugger and played defense as if every ground ball was a matter of life and death.
But while you can easily quantify what he did on the field — an MVP and Rookie of the Year Award, four Gold Gloves and three World Series rings (though he was injured and didn't get to play in the 2018 Series) — it's important to remember that Pedroia used the same energy off the field when talking to reporters. This was a guy who was all attitude all the time, and no one would have wanted him any other way.
So, as Pedroia — the Laser Show himself — hangs 'em up, let's look back at some of his very best quotes.
1. "Couple years ago, I had 60 at-bats, I was hitting .170 and everyone was ready to kill me too. What happened? Laser show."
It's the phrase that became Pedroia's nickname — after all, "Laser show" perfectly encapsulates the second baseman — but even better is that this came in defense of Pedroia's homer-crushing teammate, David Ortiz.
As for what counts as a laser show, Pedroia answered that during Spring Training one year: "If anything hits the grass and it's a hit, it's a laser show, man."
2. "Ask Jeff [expletive] Francis who the [expletive] I am. I'm the guy who hit a bomb and just ended their [expletive] season."
Given that Pedroia looks a lot more similar to the people sitting in the stands than most professional athletes, it's not shocking that ballpark security guards sometimes didn't believe that Pedroia was a member of the Red Sox. But when a Coors Field security guard eyed his player ID with some suspicion during the 2007 World Series against Colorado, manager Terry Francona relayed this quote from Pedroia, who had no choice but to point to his lead off home run in Game 1 off Jeff Francis.
3. "When you have a physique like this and you're shredded, something might happen."
When Pedroia strained his oblique during Spring Training in 2009, there was only one answer for why: The dude was simply too strong. What other answer could you even expect?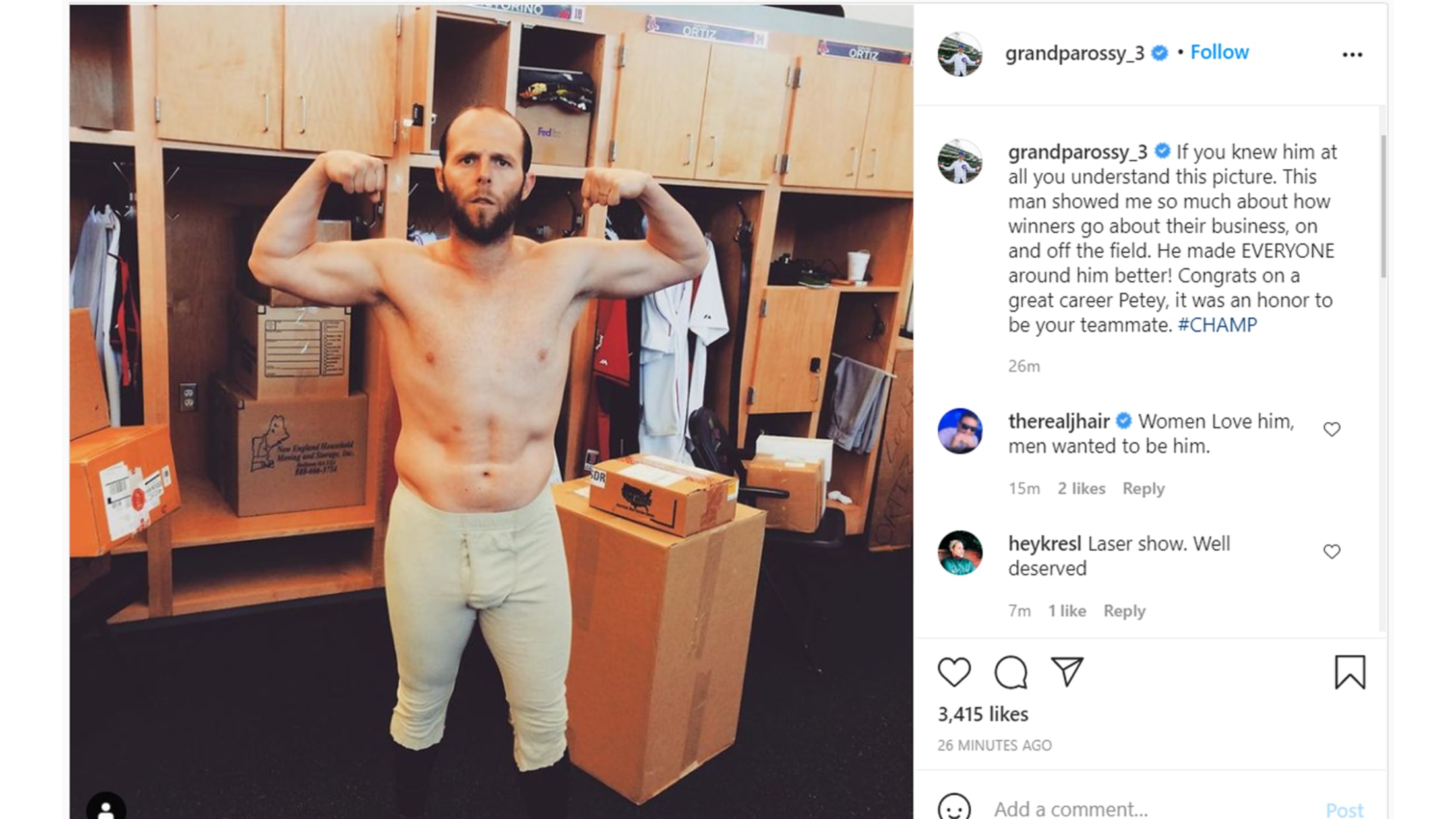 4. I'm just trying to clear my eyes and unleash the fury."
Like former Red Sox infielder Nomar Garciaparra, Pedroia had his own unique way of stepping into the batter's box, too. Unlike Nomar, though, instead of endlessly adjusting his batting gloves, Pedroia would open his eyes wide and blink repeatedly before stepping back in. Why? Was this some kind of superstition? Nope — just a method for unleashing fury like this:
5. "Ninety-eight coming in, 102 going out!"
While in college at Arizona State, Pedroia faced fellow future big leaguer Mike Pelfrey. After he laced a single, Pedroia shouted this as he rounded first base. Pedroia really is that guy at the park trash talking everyone. The only difference is Pedroia turned pro.
A tidbit I once heard from someone in Red Sox marketing:

When Vita Coco made a advertising push in 2011, they chose Rihanna as a national spokesperson. But for the campaign in Boston, they chose Dustin Pedroia, because research showed Pedroia had more influence … than Rihanna pic.twitter.com/Vwx4Rip6TK

— joon (@joonlee) February 1, 2021
6. "There's gotta be [more than one]. "I don't know, I haven't seen them. Keep looking for them."
Dustin Pedroia on the existence of — what else? — Bigfoot. He also said on a podcast with WEEI's Rob Bradford, "This isn't like a made-up creature that's like 20 feet tall. This isn't a movie … This is real life, man. They're out there."
Only Pedroia #Bigfoot pic.twitter.com/EJWkrEERm7

— Jonathan Gelnar (@JGelnar7) March 1, 2015
7. "I don't panic. I just drink more Red Bull."
Well, this explains how Pedroia was so amped up at all times.
8. "When you don't show up to play, you're going to get beat. Doesn't matter if you play the Rays or Brookline High School.''
It shouldn't surprise you that Pedroia doesn't abide losing. So, when the Red Sox were struggling in 2010, he didn't hold back.
9. "I put some whuppings on him in ping-pong and talked a lot of trash to him."
Just like when a teacher asked you what you did over your summer vacation, this was Pedroia's response to spending the offseason working out with Carl Crawford before the outfielder first joined the Red Sox.
Ping pong is actually a pretty big part of Pedroia's offseason workout plan, apparently, as he also relentlessly trash talked then-top NFL Draft pick Brady Quinn. He told the 6-foot-4 physical marvel, "I'm going to rip this ball right off your throat."
10. "I don't know what Tito's starting. He's a tool. He poured water on himself today to pretend he was working out."
This was in response to Terry Francona calling Pedroia a "balding Giovanni Ribisi" when Pedroia showed up to camp with his normally close-cropped hair grown out. Suffice to say, the two of them did not have the typical boss-employee relationship.
DP on 'do ": "Doesn't matter. Jokes are cool when I'm 20 and im losing my hair, but im a grown-*** man now . I think it looks solid."

— Gordon Edes (@GordonEdes) February 11, 2011
11. "You thought my parents would name me [expletive] Peewee?"
Pedroia was incredulous when David Ortiz — his teammate of nine years at the time — revealed that he didn't know Dustin's first name.
Pedroia told the world about the conversation during a roast of Ortiz in 2015, saying that Ortiz overheard the opposing catcher say "What's up, Dustin?"
We'll let Pedroia take it from here:
"He goes, 'Why'd he call you that?'
I go, 'That's my [expletive] name.'
He goes, 'Oh is that right?'
I go, 'Yeah, bro. I played 1,600 games with you. They've actually said it 5,000 f—— times: 'Now batting: No. 15 Dustin Pedroia.'"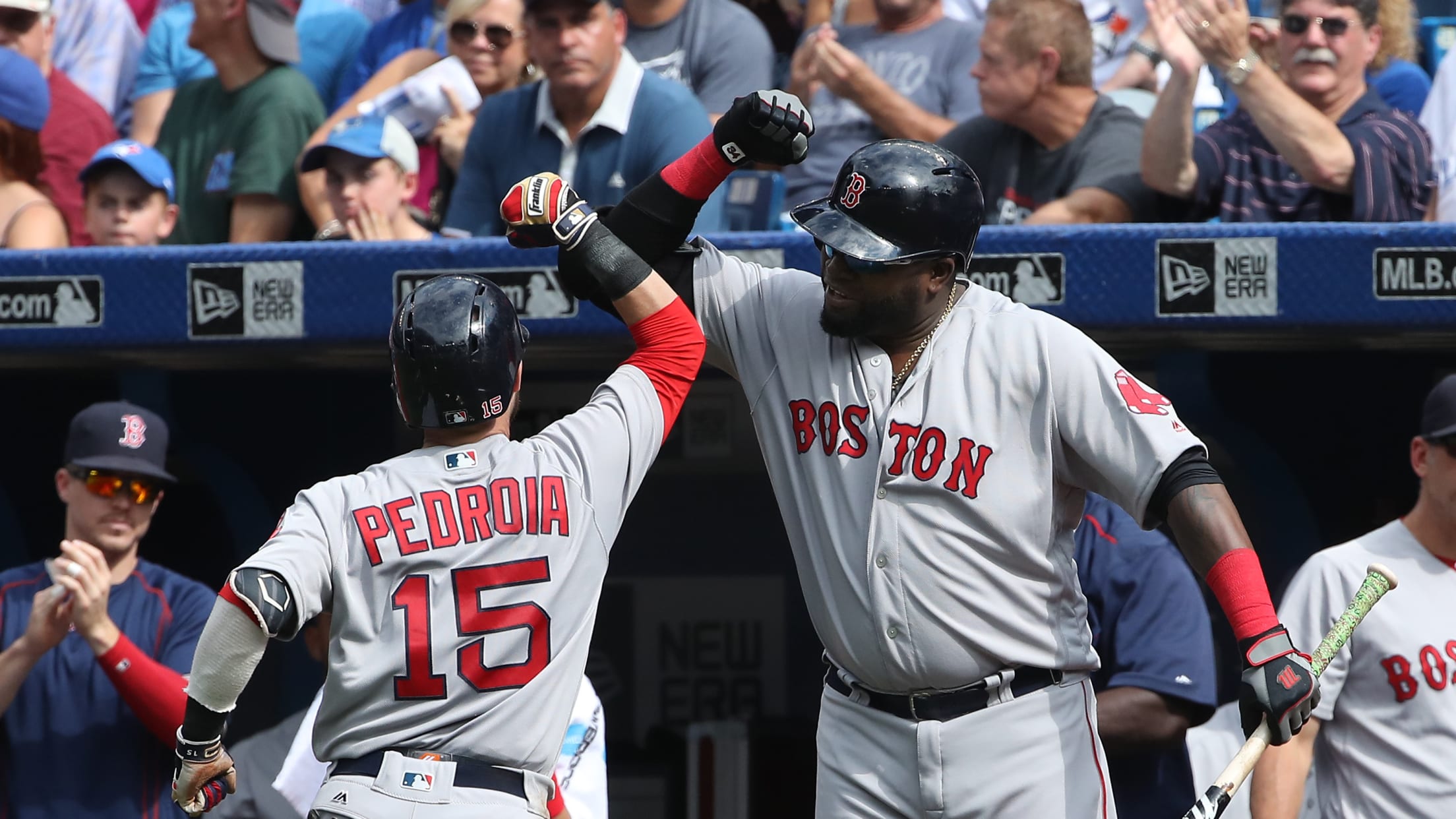 12. "Kind of a coin flip between the first two."
That was Pedroia's answer when asked to rank the best baseball players in Arizona State University history: Barry Bonds, himself and Reggie Jackson.
Yes, that does mean Pedroia counted himself on an equal plane as Bonds, and left Jackson out of the conversation entirely. He certainly didn't lack for self confidence.
His former Red Sox teammate, Sean Casey, explained in detail:
"Oh yeah, he's nuts," Casey said. "He'll say before the game, 'I'm going to hit four freaking rockets tonight, watch.' Then he'll make an out his first time up against, like, Roy Halladay throwing 97 with sick movement, and he'll come back to the dugout and say, 'This guy's got nothing. He freaking sucks. I should've killed that pitch!'"
Dustin Pedroia at Arizona State (with a full head of hair): pic.twitter.com/jh6m5s7p

— SI Vault (@si_vault) July 31, 2012
13. "People always ask me if I wish I were bigger. I tell them no. I always wanted to be a miniature badass."
There truly is only one Laser Show. While we don't know what exactly Pedroia is going to get up to in his free time, we're guessing he may just decide to finally enter a bodybuilding competition.
Michael Clair writes for MLB.com. He spends a lot of time thinking about walk-up music and believes stirrup socks are an integral part of every formal outfit.